RK Import is importer and distributor of a number of OE brands. RK Import is well known in the Egyptian aftermarket and is investing substantially to achieve its ambitious targets of growth for the coming years. RK Import is sole agent & distributor of many prominent world classes OE brands .
To import and distribute top quality parts to cover full range and offers complete solutions for the after market and OES.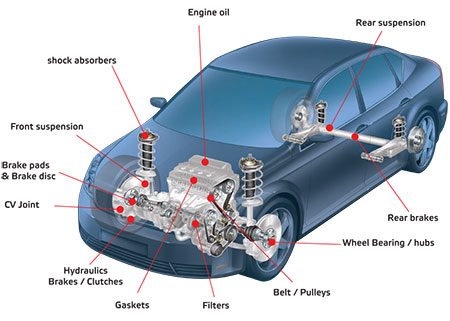 Expand in both parts supply and services
Fulfill the market gap of OE vs after market
Supply OES customers by offering complete solutions for systems suspension and brakes
Supplying the local after market to fulfill their needs in total itemized solutions from professional suppliers with International level of after service
Expand in neighbor countries
Establishment: 1997
Total Area: Current 8,000 m2
Employees: 60
Supplier Base: Local: 1 International: 16
RK Import is a pioneer in the field of importing and distribution of Auto spare parts.
RK Import provides industrial equipment
OES service stations
520 dealers covering all Egyptian main cities
60 service stations in prime economic locations
18 whole sellers covering all remote locations in Egypt
Remsa Spain (TRW Group)
Fremax
Gates
Wix-Mann-Hummel (Germany)
AL-KO (SPAIN)
Rowe Germany
Metelli (Metelli Group)
Graf (water pumps)
Mando (Halla-korea)
SKF
TRW-ZF
TRW BRAKE FLUID
RAPRO-TURKEY
Importing but not Agent from 12 major EU manufacturers and 14 Asian companies
Offices of 900 m2
3 warehouses of total area of 5000 m2
Rented location in the Free Zone for International Trade
Fleet of Vans to deliver goods to customers